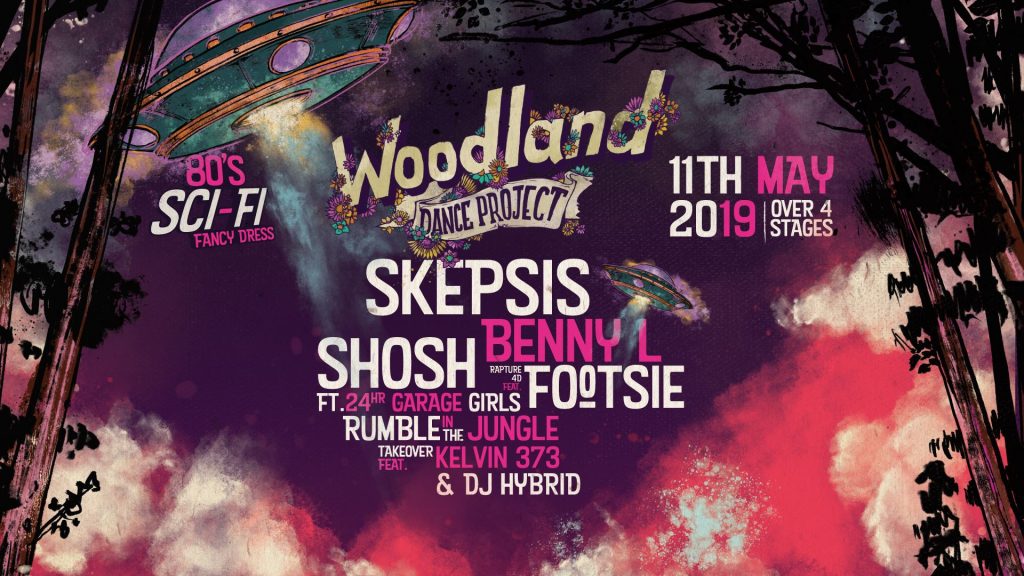 Woodland Dance Project – Spring Dance – 65% of tickets now gone!
May 11 @ 12:00 pm

-

May 12 @ 12:00 pm
Venue:
vogrie country park
Dalkeith
,
EH23 4NU
United Kingdom
---
🌲 THE WOODLAND DANCE PROJECT – EDINBURGH 🌲
Following a bumper inaugural two years that saw four sold-out events, great performances from international DJs alongside local stars, and crazy scenes across 4 stages, The Woodland Dance Project is back for 2019: bigger, better and bolder.
Set in the lush and picturesque surroundings at Vogrie Country Park, just 30 minutes from central Edinburgh,
Expect a hedonistic atmosphere of colour, magic and dance in a vibrant, natural and playful setting – The event is the first of it's kind on the East Coast.
👽 80's SCI-FI FANCY DRESS/THEME – PRIZES FOR THE BEST DRESSED 👽
▬▬▬▬▬▬▬▬▬▬▬▬▬▬▬▬▬▬▬▬▬▬▬▬▬▬▬
🌲🌲🌲THE FOREST – FT ELECTRIKAL SOUND 🌲🌲🌲
🎧 DRUM & BASS / BASSLINE / GARAGE
▬▬▬▬▬▬▬▬▬▬▬▬▬▬▬▬▬▬▬▬▬▬▬▬▬▬▬
► Skepsis
► Rumble in the Jungle Takeover ft Benny L , Kelvin 373 & DJ Hybrid
► SHOSH ft 24 Hour Garage Girls
► Footsie (Newham Generals) ft Electrikal Sound
► Liquid Funktion
► Lively Up
► Keep it Rolling
▬▬▬▬▬▬▬▬▬▬▬▬▬▬▬▬▬▬▬▬▬▬▬▬▬▬▬
⚡⚡⚡ ELECTRIKAL BIG TOP ⚡⚡⚡
🎧 DUBSTEP / UKBASS / GRIME / RAVE
▬▬▬▬▬▬▬▬▬▬▬▬▬▬▬▬▬▬▬▬▬▬▬▬▬▬▬
► Electrikal Sound ft Footsie (Newham Generals)
► Metragnome
► Church Edinburgh
► Rarewave
► Skoop
► Kryptonik Sound Kollective
► Elemnt
► Drowzee
▬▬▬▬▬▬▬▬▬▬▬▬▬▬▬▬▬▬▬▬▬▬▬▬▬▬▬
🕺🕺🕺 WOMP & STOMPS SEXY DISCO 🕺🕺🕺
🎧 DISCO / FUNK / HOUSE / TECHNO
▬▬▬▬▬▬▬▬▬▬▬▬▬▬▬▬▬▬▬▬▬▬▬▬▬▬▬
► Womp & Stomp
► EQ
► Haptic
► Astrojazz
► Mirror Dance
► Oscar B2B Aisling
► Liz Louise B2B Alex Collier
► Wax Collective
► Ben G B2B Chris J
► Main Ingredient
► Aldo
► Overground
► Reid Fernando
▬▬▬▬▬▬▬▬▬▬▬▬▬▬▬▬▬▬▬▬▬▬▬▬▬▬▬
🍍🍍 SAMEDIA SHEBEEN FT NORTH FIRE SOUND 🍍🍍
🎧 TROPICAL / WORLD / AFROBEAT / REGGAE / DUB
▬▬▬▬▬▬▬▬▬▬▬▬▬▬▬▬▬▬▬▬▬▬▬▬▬▬▬
►Samedia Shebeen
►Bambitas
►LuckyBabe
►Strawberry Jam Sound system
►Mansa '91
►Nema Kuta
►Desiato Soundsystem
►Bambi Tas
▬▬▬▬▬▬▬▬▬▬▬▬▬▬▬▬▬▬▬▬▬▬▬▬▬▬▬
🌲🌲🌲 INFORMATION 🌲🌲🌲
▬▬▬▬▬▬▬▬▬▬▬▬▬▬▬▬▬▬▬▬▬▬▬▬▬▬▬
– BEAUTIFUL WOODLAND SETTING
– 20 MINUTES FROM EDINBURGH BY CAR
– £10 RETURN BUS TICKETS ON SALE
– FOUR STAGES
– RAVE ROVER
– THREE BARS
– LOCALLY SOURCED FOOD STALLS
– HULA HOOPING
– SLACK LINING IN THE WOODS
– FIRE PERFORMANCES
– STRICTLY 18+
– NO DICKHEADS
TICKETS:
http://skiddle.com/e/13331467
♥