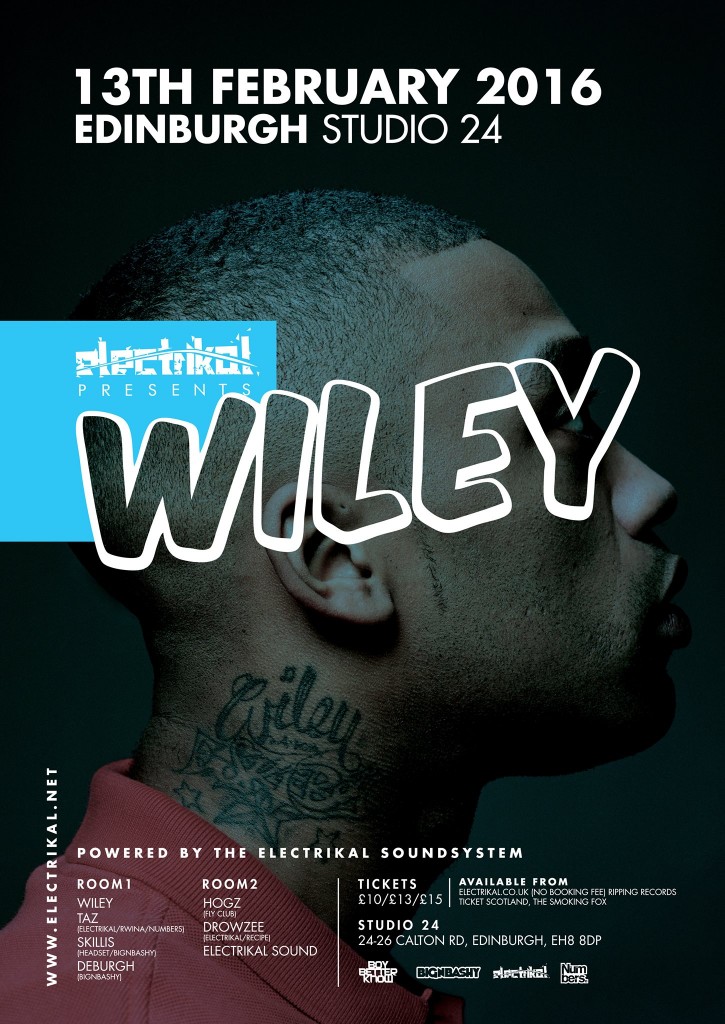 Wiley @ Studio 24 (Edinburgh)
February 13, 2016 @ 10:00 pm
Venue:
24-26 Calton Rd
Edinburgh
,
EH8 8DP
United Kingdom
---
Wiley in Edinburgh on the Electrikal Sound System!
Due to the high demand for the Wiley show in Glasgow, we have decided to add another date for all the Edinburgh heads!
Wiley is perhaps the most prolific producer, MC and recording artist to emerge from London in the last twenty years. He is best known for being the originator and godfather of Grime music, producing and self-releasing instrumental classics such as 'Eskimo', 'Ice Rink' & 'Avalanche' in 2001 before the genre had even been coined as Grime.
The underground notoriety he achieved with these vinyl releases led to him being signed by the legendary XL Recordings in 2003. In 2004 he released his seminal debut 'Treddin' on Thin Ice' which acted as a blue print for the newly formed genre.
Since then he has released a slew of classic instrumentals and put out some of the finest mixtapes the genre of Grime has to offer.
Lineup:
Wiley
Electrikal Sound
Taz (Electrikal / Rwina / Numbers)
Skillis (Headset / Big n Bashy) b2b Deburgh (Big n Bashy)
Room 2:
Hogz
Drowzee
Tickets:
£10 EARLY / £13 / £15 / 17.50 / MOTD
♥