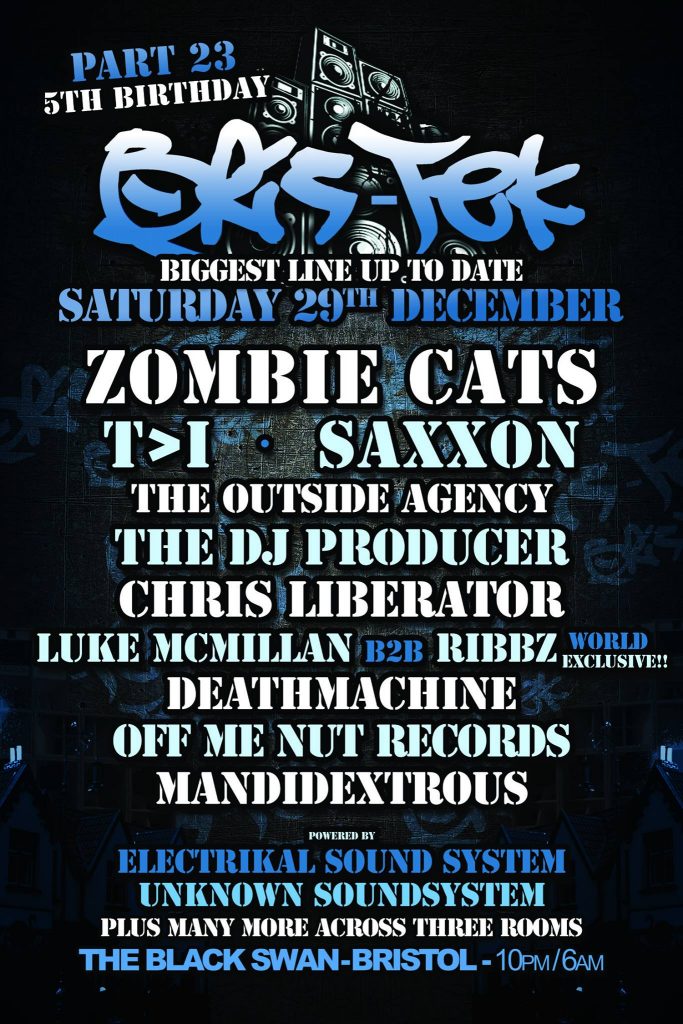 Bris-Tek 5th Birthday
December 29, 2018 @ 8:30 pm

-

December 30, 2018 @ 5:30 am
Venue:
438 Stapleton Rd,
Bristol
,
BS5 6NR
United Kingdom
---
So we made it to 23 & our 5th Birthday.
To help celebrate we are putting together our biggest lineup of acts and rigs to date.
Dress code: Funky Shirts & Beloved Indian Blankets.
Full details coming very soon so watch this space!
Lineup!
▬▬▬▬▬▬▬▬▬▬▬▬▬▬▬▬▬▬▬▬▬▬▬▬▬▬▬
Main Room – Elecktrikal Sound System – D&B / Bassline
▬▬▬▬▬▬▬▬▬▬▬▬▬▬▬▬▬▬▬▬▬▬▬▬▬▬▬
► Zombie Cats
► T>I
► Saxxon
► Off Me Nut Records Takeover ft Superior Cornrows b2b Thorpey
► Fiyahman
► CTB
▬▬▬▬▬▬▬▬▬▬▬▬▬▬▬▬▬▬▬▬▬▬▬▬▬▬▬
Upstairs – UnKnOwN Soundsystem – Core / Techno / Tek
▬▬▬▬▬▬▬▬▬▬▬▬▬▬▬▬▬▬▬▬▬▬▬▬▬▬▬
► The Outside Agency
► The DJ Producer
► Chris Liberator
https://www.facebook.com/DJChrisLiberator/
► Luke McMillan b2b Ribbz McDj – Techno Set – World Exclusive
https://www.facebook.com/MC-Ribbz-official-254303031253339/
► Deathmachine – 20 Years In The Game Set
► Mandidextrous
► E-coli